Key Takeaways:
As the Federal Reserve eyes another rate cut, it is important that investors:
Review interest rates on loans.
Review your equity/bond exposure.
Seek competitive rates on cash deposits.
With rates falling drastically over the past twelve months, one of the more surprising outcomes of 2019 so far has been the return of a rate cutting environment.  At the beginning of Q4 2018, the 10-Year Treasury was around 3.2% and since then the yield has plummeted to ~1.5%.  Currently the 10-Year Treasury is near the all-time low.
10-Year Treasury Rate – 54 Year Historical Chart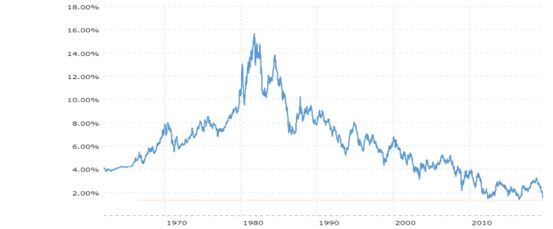 Source: https://www.macrotrends.net/2016/10-year-treasury-bond-rate-yield-chart
Earlier this year, the Federal Reserve cut rates by 0.25%, the first time since the financial crisis in 2008.  In addition, the Fed decided to preemptively end its process of reducing its balance sheet two months ahead of schedule.  Most pundits and analysts believe that there will be a further rate cut when the Federal Reserve meets again later this month on the 17th and 18th of September.  While the Fed is charged with being an objective institution, there has certainly been both political and global pressure to lower rates.  The President alone tweeted about the Federal Reserve 34 times during the month of August, according to a Washington Post article.1
So why is this important and what should the average person be doing in a time of lowering rates?  Ignoring the economic impacts/concerns and the potential impact on investor/consumer behaviors, lower rates present opportunities and risks to investors and consumers.  Below are the three most impactful items to review in today's environment.
Review your equity/bond exposure. Over the past several years, everyone has talked about the fear of rising rates and the potential negative impact on bonds.  Thus far in 2019, we have experienced the return of booming bond market returns, contrary to many analysts' opinions.  Below are several different bonds that represent a portion of the bond market and their respective performance.  As we begin to look at yearend planning, holiday consumer spending, and as the 2020 political environment starts to ramp up, now is a great time to reevaluate your allocation and the underlying risk within your portfolio.
+8.95% YTD 9/6/19  –  AGG (iShares Core US Aggregate Bond ETF)2
+22.38% YTD 9/6/19  –  TLT  (iShares 20+ Year Treasury Bond ETF)3
+9.54% YTD 9/6/19  –  IAGG (iShares Core International Aggregate Bond ETF)4
+11.2% YTD 9/6/19  –  HYG (iShares iBoxx $ High Yield Corporate Bond ETF)5
Review interest rates on loans. Over the past few weeks, we have seen a surprisingly new opportunity for some clients to be able to refinance to a lower interest rate on a mortgage or business debt.  While most thought the absolute low-rate environment had passed, rates have come back down.  If you owe on a debt, now is an important time to keep a close eye on rates, especially if we see further rate cuts from the Federal Reserve.  As we have said before, we are happy to help analyze debts for you.
Seek competitive rates on cash deposits. As rates fall, deposit institutions lower interest rates on checking, savings, money market, CDs, etc.  We have already seen rates fall on clients' depository assets.  Pay special attention as CDs renew and if you are considering any type of fixed investment (e.g. annuity).  In addition, review "high yielding" savings accounts to make sure they are still competitive.
As always, we are happy to help with the important analysis and decision making regarding the above items.  Please do not hesitate to reach out to us for an objective opinion or for help facilitating a proactive change considering the current environment.
Sources: